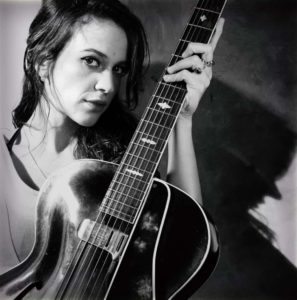 jazz guitarist - compositor - teacher
Eleonora started to play guitar when she was fifteen.
Her life changed when she heard for the first time, as a teenager, Jim Hall playing with Bill Evans.
From that day, she knew what she wanted to do in her life: to become a jazz guitarist.
She studied at the conservatory of Naples, then at the Conservatorium Van Amsterdam with Martin Van Itterson, Jesse Van Ruller and Maarten Van de Gritten.
When she was 23 years old she went to Berlin and there met the double bass player Greg Cohen.
He took her under his wing and they started a solid collaboration that led them to play all around Europe and in many important festivals.
Eleonora is now one of the most promising jazz guitarist of her generation.
She collaborates with some of the biggest names of the Italian jazz scene and is the leader of several groups.
Lucca Jazz Donna 2011 ~ Piacenza Jazz 2011 ~ Napoli citta' viva 2011 ~ Benevento citta' spettacolo 2011 ~ Sapri jazz Waves 2012 ~ Napoli teatro festival 2013 ~ Stagione concertistica 2013 Fondazione F.M. napolitano ~ Wine and the City 2013 ~ Pozzuoli Jazz Festival 2013 ~ Nola jazz festival 2014 ~ Jazz&More 2014 ~ Jazz around the clock 2014 ~ San Teodoro Jazz Festival ~ Stagione teatrale estiva di Cannelli 2015 ~ International Smientana jazz competition 2015 ( Poland) ~ Rassegna Decumani Hotel De Charme 2015 ~ Wunderkammermusic#3 2015 ~ rassegna internazionale di concerti Musicae' 2015 ~ Casa del Jazz 2016 ~ Blue Note Milano 2016 ~ Respiro jazz 2016 ~ Jazzin' 2016, Torino Jazz festival 2016/2017/2018 ~ Sorrento Jazz festival 2016 ~ Astiss teatro 2016/2017 ~ the Brass Group (Palermo) 2016 ~ premio nazionale araldo ieri 2016 ~ Tolentino jazz festival 2018~ La Grande Notte del Jazz di Brescia 2018 ~ Chitarra per sognare 2018 ~ Belgium tour with Greg Cohen 2018 ~ Denmark tour with Giulio Corini ~ Torino jazz festival 2019 ~ Bergamo jazz festival 2019
2011 first guitar for "Marechiaro waiting for the moon" of Mariano Baudin, direct from M Roberto De Simone
2013 first guitar with Filippo D'Allio for"Il Maestro di Cappella dei Mendicanti" of Mariano Baudin during the edition of Napoli Teatro Festival
2014 she had the contract with Blue Show, a big performer society. She became the guitarist of the famous vocal trio "The Blue Dolls", the band "Five woman for jazz", "Lentini's voices" and Viviana Dragon trio.
2014 She is the arranger and guitarist for the show "Baciatemi il culo sono un ballerino" of Roberto Russo
2017 she had the contract with "Best Live" as guitarist for the show "Mille Voci" of the singer/actor Francesco Cicchella
2017 guitarist for the show "Contaminata" of the jazz singer Paola mei.
2018 guitarist for the show "Il fiore ed altre storie" of the association Parthenos
MAIN Formations as a leader
ELEONORA STRINO & GREG COHEN
ELEONORA STRINO TRIO
w Greg Cohen d.bass and Massimo del Pezzo drums
ELEONORA STRINO QUARTET
w Fernando Sanchez sax / Mauro Cottone d.bass /Joan Terol drum
ELEONORA STRINO SONGWRITER
w Giulio Corini d.bass & E. Maniscalco drums
ELEONORA STRINO ORGAN TRIO
Eleonora Strino guitar / Alberto Marsico organ / Massimo Del Pezzo drums
Greg Cohen ~ Emanuele Cisi ~ Dado Moroni ~ Roberto de Simone ~ Adam Pache ~ Curt Weil ~ Massimo Faraò ~ Aldo Zunino ~ Steve Williams ~ Adrianne West ~ Yanara Reyes McDonald ~ Ben Paterson ~ Fulvio Albano ~ Francesco Cicchella ~ Jessica Young ~ Alberto Marsico ~ Ecc…
TRES PALABRAS
Sunrise Trio feat Alberto Marsico
GIOVANI LEONESSE
Recorded at "Casa Del Jazz" in Rome
WHEN I FALL IN LOVE
Jessica Young voce ~ Massimo Faraò piano ~ Aldo Zunino d.bass ~ Steve Williams drums
SI, CY
w Greg Cohen and Massimo Del Pezzo, recorded in Castellammare di Stabia, October '16
B&B DUET
Ileana Mottola / Eleonora Strino , produced by the famous author Nino Bonocore
ELEONORA STRINO QUARTET
recorded in Torino, November '16 at Riverside Studio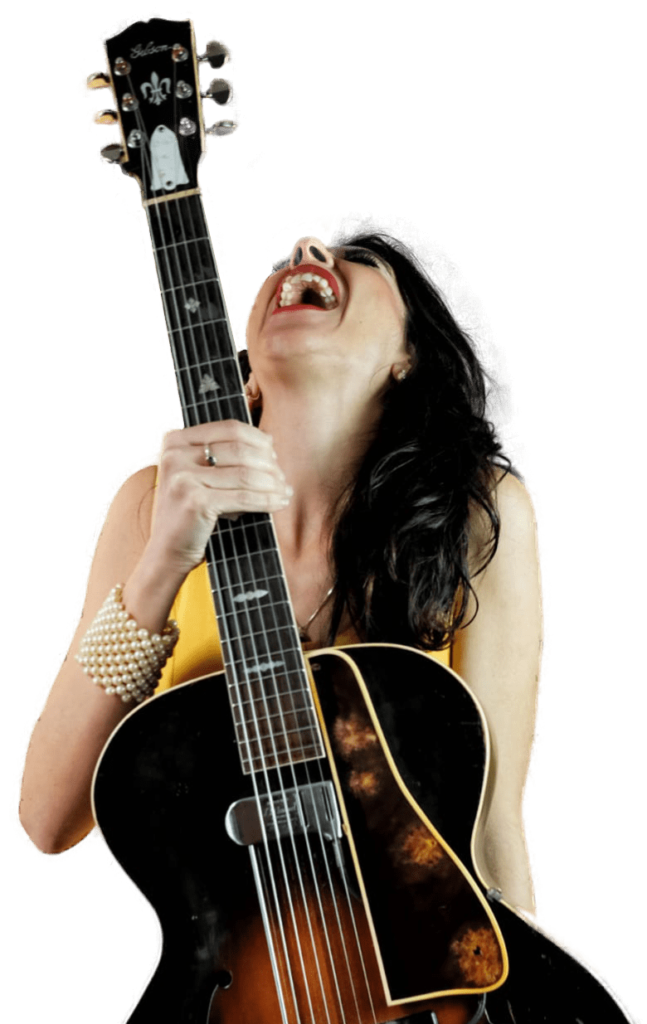 Guest Misvago Jam Sassion
w Elio Coppola & Antonio Caps
Casoria
B&B duet
Grottaminarda (AV)
w Veronica Perego e Manfredi Crocevia
Ivrea
w Le Blue Dolls
Piccolo teatro regio di Torino
E. Strino trio w Giuseppe Votale
e Jacopo Zanette 
Trieste
E. Strino trio w Giuseppe Votale
e Jacopo Zanette Trieste
with Daniela Placci e Alex Macinante
Passpartout Festival (Asti)
Dado Moroni / Eleonora Strino / Yanara reyes
McDonald / Stefano Bagnoli
Cavi Lavagna
w A.Muner & Veronica Perego
Torino
trio feat Adrianne West
Desio – jazz e dintorni 2019
Dado Moroni trio feat Arianne West
Pisa
w Beatrice Valente & Ileana Mottola
Pozzuoli Jazz Festival
w Gulia Damico/ V. Perego / L. Klain
Amen (To)
w Tiziana Cappellino
Fortezza di Verrua
w Veronica Perego e Manfredi Crocevia
Reggia di Venaria
Masterclass
Lizard di torino
Eleonora Strino trio w Giulio Corini &
Emanuele Maniscalco
"Il jazz per L'Aquila"
eleonora strino © 2019 all right reserved