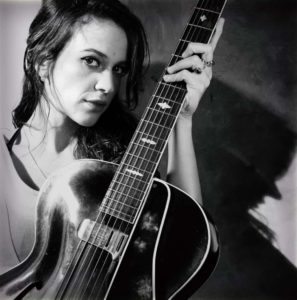 jazz guitarist - composer - teacher
Eleonora Strino grew up in a creative household. Her father and sister were important painters of figurative art, but music was what attracted Eleonora.
She began playing guitar as a teenager, and from the first time she heard Jim Hall playing with Bill Evans she knew she wanted to be a jazz guitarist. studied at the conservatory in Naples, then at the Conservatorium Van Amsterdam with Martin Van Itterson, Jesse Van Ruller and Maarten Van de Gritten. Eleonora began her professional career as first guitar in the orchestra of Italian composer Roberto De Simone. 
She met Greg Cohen during an audition in Berlin.  He was Tom Waits' long-time bass player, as well as playing with Ornette Coleman, Lee Konitz, and Woody Allen among others.  He took Eleanora under his wing and they started a solid collaboration that led them to play all around Europe and at many important festivals. They recorded an album in 2017, "Si, Cy," a tribute to the America songwriter Cy Coleman, and continue to tour Europe.
In 2018, Eleonora received an invitation from the renowned Italian pianist Dado Moroni, who has carried on the Oscar Peterson legacy, to be part of one of his bands. They played at the leading Italian festivals with American vocalist Adrianne West, who previously worked with Barney Kessel and Joe Pass.  In 2020 the Moroni band will do a week of concerts and masterclasses in Switzerland.
Eleonora is also a composer and an arranger. In October 2019 she won a prize for the best composition at the international competition "Jhonny Radacanu" (Romania) with her song "Senza e Ce Sta'.  She was invited to play her music with Milan's civic jazz band in the beautiful Strehler Theatre.
Eleanora has many current solo projects.  She is writing a guitar instruction book for the English publisher Fundamental-Changes called "Be-Bop Scales," which will be distributed in America.  She is also working on her first album as a songwriter, featuring her guitar and voice, and she will be touring North America with International Guitar Night in early 2022.  The future is very bright for this multi-talented artist.
Lucca Jazz Donna 2011 ~ Piacenza Jazz 2011 ~ Napoli citta' viva 2011 ~ Benevento citta' spettacolo 2011 ~ Sapri jazz Waves 2012 ~ Napoli teatro festival 2013 ~ Stagione concertistica 2013 Fondazione F.M. napolitano ~ Wine and the City 2013 ~ Pozzuoli Jazz Festival 2013 ~ Nola jazz festival 2014 ~ Jazz&More 2014 ~ Jazz around the clock 2014 ~ San Teodoro Jazz Festival ~ Stagione teatrale estiva di Cannelli 2015 ~ International Smientana jazz competition 2015 ( Poland) ~ Rassegna Decumani Hotel De Charme 2015 ~ Wunderkammermusic#3 2015 ~ rassegna internazionale di concerti Musicae' 2015 ~ Casa del Jazz 2016 ~ Blue Note Milano 2016 ~ Respiro jazz 2016 ~ Jazzin' 2016, Torino Jazz festival 2016/2017/2018 ~ Sorrento Jazz festival 2016 ~ Astiss teatro 2016/2017 ~ the Brass Group (Palermo) 2016 ~ premio nazionale araldo ieri 2016 ~ Tolentino jazz festival 2018~ La Grande Notte del Jazz di Brescia 2018 ~ Chitarra per sognare 2018 ~ Belgium tour with Greg Cohen 2018 ~ Denmark tour with Giulio Corini ~ Torino jazz festival 2019 ~ Bergamo jazz festival 2019 – Jazz e Dintorni 2019 – Aquila Jazz 2019 – Jazz on the Road 2020 – You Must Believe in Spring 2020 – Nora Jazz 2020 – 
2011 first guitar for "Marechiaro waiting for the moon" of Mariano Baudin, direct from M Roberto De Simone
2013 first guitar with Filippo D'Allio for"Il Maestro di Cappella dei Mendicanti" of Mariano Baudin during the edition of Napoli Teatro Festival
2014 she had the contract with Blue Show, a big performer society. She became the guitarist of the famous vocal trio "The Blue Dolls", the band "Five woman for jazz", "Lentini's voices" and Viviana Dragon trio.
2014 She is the arranger and guitarist for the show "Baciatemi il culo sono un ballerino" of Roberto Russo
2017 she had the contract with "Best Live" as guitarist for the show "Mille Voci" of the singer/actor Francesco Cicchella
2017 guitarist for the show "Contaminata" of the jazz singer Paola mei.
2018 guitarist for the show "Il fiore ed altre storie" of the association Parthenos
MAIN Formations as a leader
ELEONORA STRINO & GREG COHEN
ELEONORA STRINO TRIO
w Giulio Corini and Emanuele Mansclaco 
ELEONORA STRINO QUARTET
w Fernando Sanchez sax / Mauro Cottone d.bass /Joan Terol drum
ELEONORA STRINO ORGAN TRIO
Eleonora Strino guitar / Alberto Marsico organ / Alessandro Minetto drums
LADIES & GENTLMEN 
Dado Moroni piano – Eleonora Strino guitar – Yanara Mc Donald double bass – Enzo Zirilli drums
ADRIANNE WEST QUINTET
Adrianne West voice – Dado Moroni piano – Eleonora Strino guitar – Yanara Mc Donald double bass – Enzo Zirilli drums
Greg Cohen ~ Emanuele Cisi ~ Dado Moroni ~ Roberto de Simone ~ Adam Pache ~ Curt Weil ~ Massimo Faraò ~ Aldo Zunino ~ Steve Williams ~ Adrianne West ~ Yanara Reyes McDonald ~ Ben Paterson ~ Fulvio Albano ~ Francesco Cicchella ~ Jessica Young ~ Alberto Marsico ~ Ecc…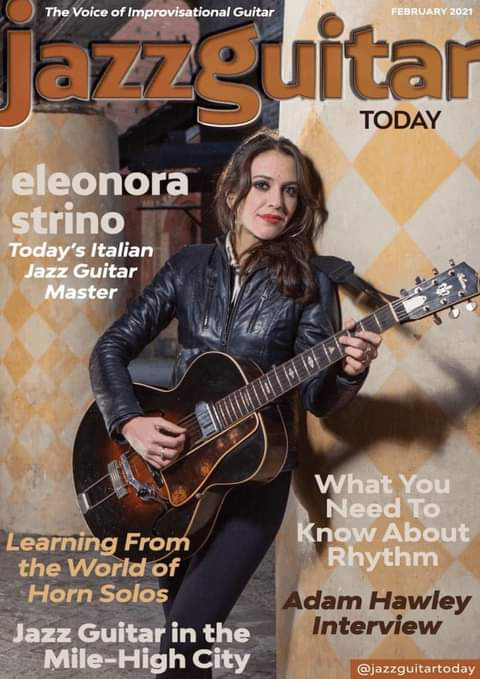 TRES PALABRAS
Sunrise Trio feat Alberto Marsico
GIOVANI LEONESSE
Recorded at "Casa Del Jazz" in Rome
WHEN I FALL IN LOVE
Jessica Young voce ~ Massimo Faraò piano ~ Aldo Zunino d.bass ~ Steve Williams drums
SI, CY
w Greg Cohen and Massimo Del Pezzo, recorded in Castellammare di Stabia, October '16
B&B DUET
Ileana Mottola / Eleonora Strino , produced by the famous author Nino Bonocore
ELEONORA STRINO QUARTET
recorded in Torino, November '16 at Riverside Studio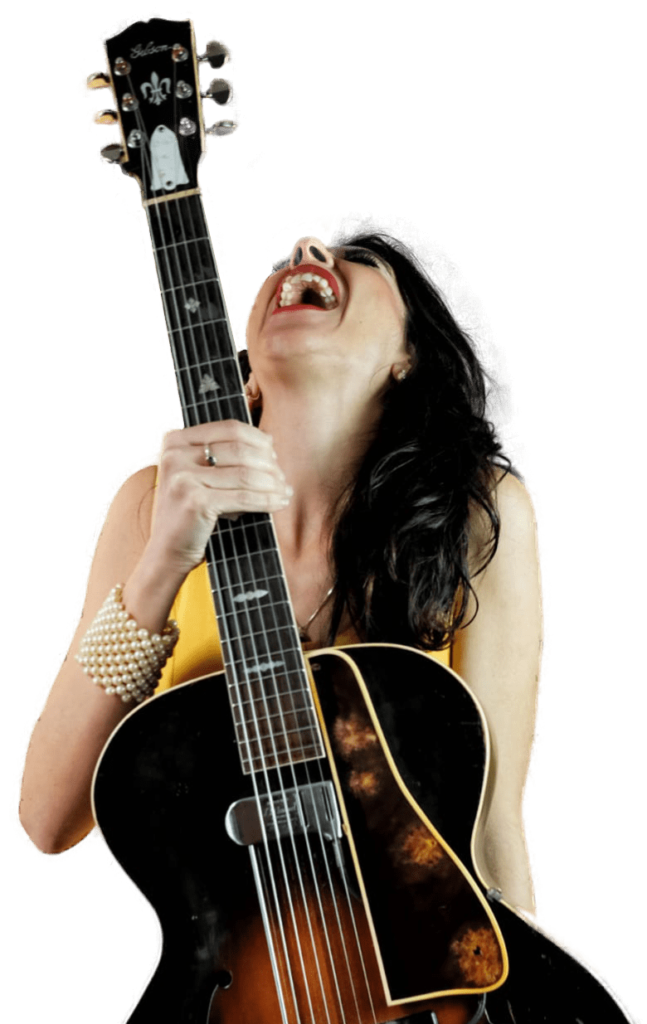 Cremona – 100 Birds
E. Strino/ E. Cisi
Blue Note Milano
Eleonora Strino Trio con Daryl Hall & Jason Brown
(Presentazione del disco "I Got Strings")
Jury all the day for the Jazz Exam of the Nice Conservatory
Masterclass and concert at the conservatory of Nice
JazzUp in Opio – 100 Birds
E. Strino/ E. Cisi/ Philippe Brassourd
Masterclass & workshop at Albissola Jazz — Albissola (Liguria) 
Clumanc Jazz Festival (France)
w Frederic Viale
Masterclass & workshop at Eddie Lang Jazz Festival 
Eddie Lang Jazz festival
w P.Condorelli/ A. Tavolazzi/ M. Manzi
Agent for USA
Herschel Freeman
Agent for German
Jeff Aug, MAXIMUM Booking
eleonora strino © 2022 all right reserved