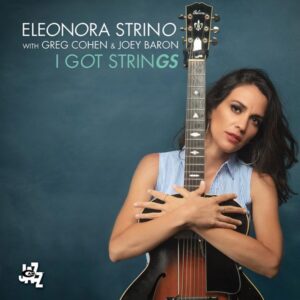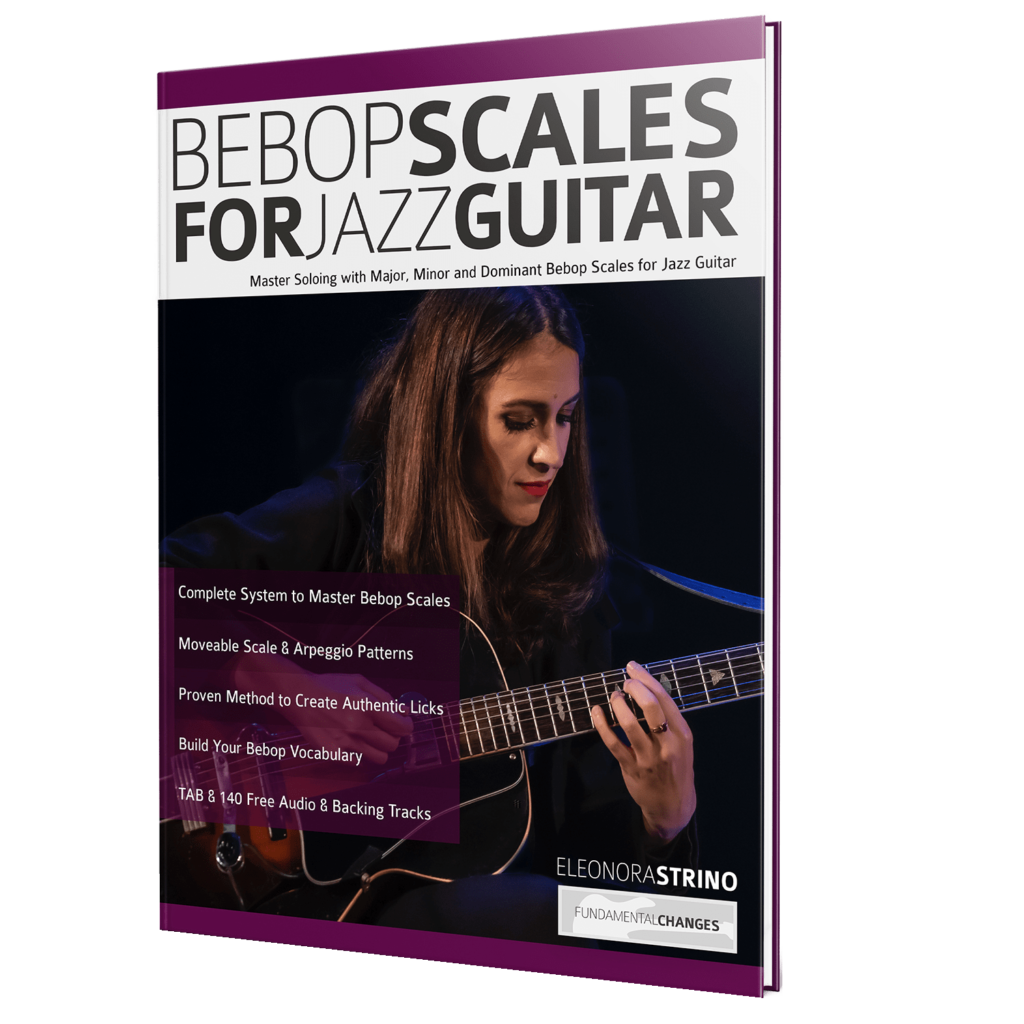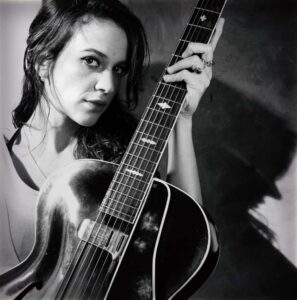 Eleonora Strino is recognized by critics as one of the most promising young talents in the international jazz scene.
The international jazz magazine "Jazz Guitar Today" featured her on the cover of its February 2020 issue, following features dedicated to musicians of the caliber of Peter Bernstein, Kurt Rosenwinkel, John Scofield, and other great guitarists of the current scene.
On March '23, her educational book 'Bebop Scales for Jazz Guitar' was released worldwide. It was published by music educator 'Fundamental Changes' which Amazon describes as "the most important independent music publisher in the world."
In May 2023, her first album as a bandleader was released, recorded live in Berlin in November 2021, alongside two jazz legends: Greg Cohen on double bass and Joey Baron on drums. The album is titled 'I Got Strings' and was produced by the renowned Italian record label Cam Jazz.
She presented the album at the Blue Note in Milan as a trio with Jason Brown and Darhyl Hall.
Eleonora has numerous collaborations with some of the best jazz musicians and maintains an active international concert schedule. She has toured and conducted masterclasses in Brazil, the Canary Islands, North America, Europe, and all Europe.
She is a permanent member of Dado Moroni's quartet, produced by Auditorium Rai; Emanuele Cisi's quartet with actor Filippo Timi, produced by Warner Bros; Greg Cohen's trio; and the group "The Great Guitarist" alongside Ulf Wakenius and Martin Taylor. (The group was founded in '73 by Barney Kessel, Charlie Byrd, and Herb Ellis, and she is the first woman to be part of it).
In addition to her performing career, she is actively involved in teaching. She has conducted workshops and seminars at the Conservatory of San Salvador in Brazil, Hemu (Conservatory of Lausanne) in Switzerland, Conservatoire Pierre Cochereau in Nice, France, the Conservatory of Tirana in Albania, and the Taller de Músics Conservatory in Barcelona.

Currently, she serves as a jazz guitar Professor at the Conservatory of Cosenza.
More details about Eleonora Strino
Eleonora Strino grew up in a creative household. Her father and sister were important painters of figurative art, but music was what attracted her. She began playing guitar as a teenager, and from the first time she heard Jim Hall playing with Bill Evans, she knew she wanted to be a jazz guitarist.
She studied at the conservatory in Naples, then at the Conservatorium van Amsterdam with Martijn van Iterson, Jesse van Ruller, and Maarten van der Grinten. Eleonora began her professional career as first guitar in the orchestra of Italian composer Roberto De Simone.
She met Greg Cohen during an audition in Berlin. He was Tom Waits' long-time bass player, and had also played with Ornette Coleman, Lee Konitz and Woody Allen, among others. He took Eleanora under his wing and they started a collaboration that led them to play all over Europe at many important festivals. In 2017, they recorded the album Si, Cy – a tribute to American songwriter Cy Coleman. They continue to tour Europe periodically.
In 2018, Eleonora received an invitation from the renowned Italian pianist Dado Moroni, who has carried on the Oscar Peterson legacy, to be part of one of his bands. They played at leading Italian festivals with American vocalist Adrianne West, who previously worked with Barney Kessel and Joe Pass. In 2020, the Moroni band hosted a week of concerts and masterclasses in Switzerland.
Eleonora is also a composer and arranger. In October 2019, she won a prize for the best composition at the international Johnny Răducanu jazz festival in Romania (named after the Romanian jazz pianist), with her song Senza e Ce Sta. She was invited to play her music with Milan's civic jazz band in the beautiful Strehler Theatre.
In 2021 she was invited to join Emanuele Cisi's new project and in September that year recorded the album Far Away for Warner Music. In addition to the recording, a docufilm will be produced and broadcast on Netflix.

In October 2021 she went on a month-long tour of Germany and Holland, performing twenty-four concerts in thirty days in major theatres and jazz festivals with three other international guitarists (from Russia, Germany and Australia). The tour was arranged by prominent American manager Herschel Freeman, who had called her to be part of the important International Guitars Night tour of North America.
In July 2022 she was invited by internationally renowned guitarist Martin Tayler to play a trio performance, along with world-famous guitarist Ulf Wakenius on The Great Guitars tour – a project that began in 1973 and still continues to this. Over the years it has featured some of the greatest guitar players in jazz history, including Barney Kessel, Kenny Burrell, Herb Ellis, Larry Coryell, Tal Farlow and more.

In November 2022, Eleonora took part in the sixth Tenerife International Guitar Festival, and in the same month began the Women and Music tour – the farewell tour of artist Ornella Vanoni.
In December 2022 she participated in the first Salvador De Bahia International Guitar Festival, where she also held a masterclass at the music conservatory.
During her career, she has collaborated with musicians including, Jason Brown, Wayne Escoffery, Martin Taylor, Ulf Wakenius, Seamus Blake, Joey Baron, Dado Moroni, Adrianne West, Greg Cohen, Derryl Hall, Dario Deidda, Peter Bernstein, Jesse Davis, Aldo Zunino, Enzo Zirilli, Adam Pache, Emanuele Cisi, Rosario.
Eleanora is pursuing many current solo projects. The future is bright for this multi-talented artist.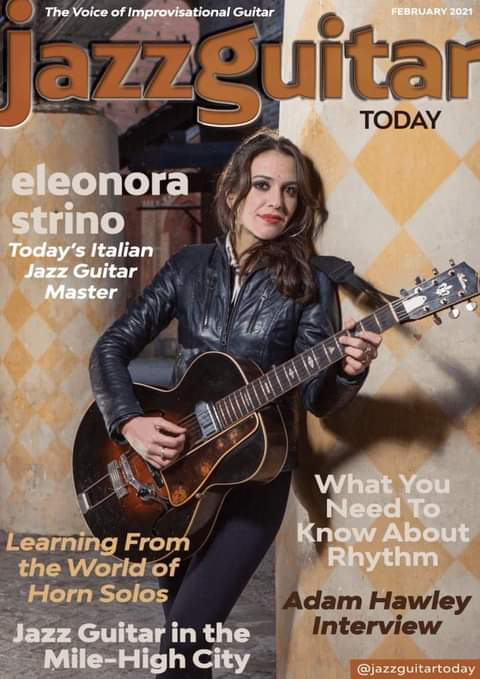 "We recognised in Eleonora not only a virtuoso jazz guitarist, but a methodical and inspiring teacher, so we were keen to develop a publishing project with her. The result is a very satisfying systematic teaching of essential bebop scales that explains the theory and approach, but is always practical and immediately musical"
by Tim Pettngale (Fundamental Changes)
"Eleonora Strino is one the most musical and impressive guitarists I have heard in recent years. She has a maturity and developed musical identity well beyond her young age. Eleonora has a love and respect for the older songs and the pure sound of the guitar yet is always taking chances which keeps her playing in the moment and gives a very immediate feeling to her music" by Peter Bernstein
"There is a new generation of great Italian guitar players right now, and Eleonora Strino is one of them including Matteo Mancuso and Pasquale Grasso"
by Vintage Guitar Magazine
Elenora Strino is a wonderful artist with a beautiful flair for combining creativity and sensitivity with a virtuosos technical mastery. Her compositions, singing, and guitar playing are overflowing with emotion and connectedness.  One of my tenants of performing is to communicate your soul to the world around you.  Eleonora does that with such abundance it's hard to find the right words to describe.  One must listen and watch her as she delivers her gifts.  She is the epitome of a "Jazz Guitarist Today" by Jazz Guitar Today
Strino's playing has the kind of seamless, organic feel that makes discussion of technique irrelevant, or perhaps only relevant to gatherings of guitar players.
She doesn't sound like anyone else, doesn't seem to carry forward any single influence. It's very much her own sound, the product of considerable application, but also great ears. She's absorbed the guitar literature, but moved quietly beyond it, to her own blue-tinged space, and settled down there.
By Brian Morton
Produced by Ermanno basso – CAM JAZZ
Recorded live in Berlin – November '21
Eleonora Strino – guitar 
Joey Baron – drums

Greg Cohen – double bass
Produced by Savarese Editore
Released in 2016
Eleonora Strino – guitar 
Greg Cohen – double bass 
Massimo Del Pezzo – drums


Produced by Massimiliano Pone – USELESS
CD  Released in 2018
Eleonora Strino – guitar, voice, arrangements, compositions 
Francesco Marziani – piano

Marco De Tilla – double bass

Massimo Del Pezzo – drums
Produced by Apogeo Records 2014
Eleonora Strino – chitarra
Alberto Marsico – organo
Massimo Del Pezzo – batteria
Produced by Roberto Catulli – AUDITORIUM RAI CD Released in 2022
Dado Moroni – piano

Eleonora Strino – guitar & voice
Yanara Mc Donald – guitar & voice
Enzo Zirilli  – drums
Produced by Warner Music
CD Released in 2021
Emanuele Cisi – tenor sax
Filippo Timi – narrative voice
Eleonora Strino – guitar & voice
Marco Micheli – electric bass
Enzo Zirilli – drums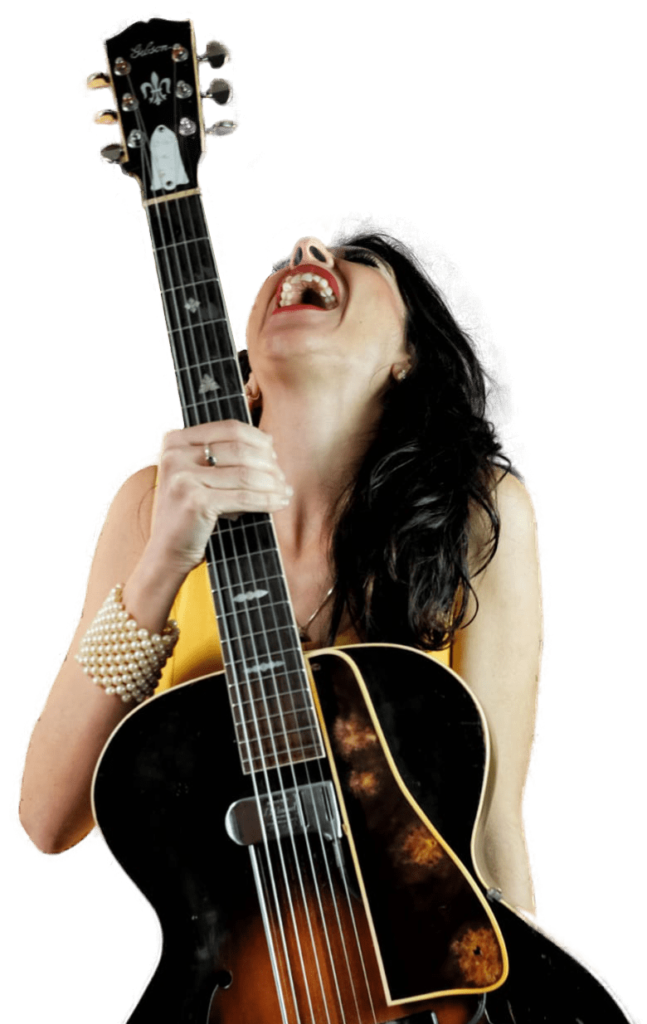 Sulky Jazz Festival
Sant'antioco – Sardinia
Castroreale Jazz festival (Sicily)
With Francesa Tandoi
Milo Jazz Superior Festival (Sicily)
With Francesa Tandoi
Emanuele Cisi quartet
Rifugio Vaccara (Piemonte – Italy)
Emanuele Cisi quartet
Rifugio Jervis (Piemonte – Italy)
Emanuele Cisi quartet
Rifugio Muzzio (Piemonte – Italy)
Francavilla è Jazz (Calabria)
With Francesca Tandoi
Cremona Musica International Exhibitions
Guitar Solo
Padova Jazz Festival
Eleonora Strino trio with Giulio Corini e Zeno De Rossi
Tolentino Jazz Festival
With Francesca Tandoi
Alexander Platz
Eleonora Strino trio with Chris Smith & Makar Novikov
Moncalieri Jazz Festival
Eleonora Strino trio with Chris Smith & Makar Novikov
Louisiana Jazz Club
Masterclass & Concert
Africa Tour
With Dado Moroni quartet
Agent for USA
Herschel Freeman
Agent for German
Jeff Aug, MAXIMUM Booking
eleonora strino © 2022 all right reserved